John Deere DEF (Adblue) DELETE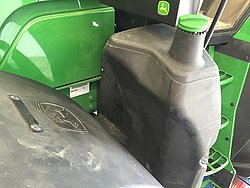 With our product you can operate your John Deere without DEF fluid.
During long stops or winter the fluid are clogging in the pipes and you have highly repair costs.
With the latest update, you can even remove the urea pump.

You have the following advantages:

No need to refill the DEF fluid
Defective pumps do not have to be replaced.
Switch off exhaust-relevant faults and NOX sensors.
TIME AND MONEY SAVINGS!


For these models you can use the product:

5085M, 5100M, 5115M
6110R, 6120R, 6130R, 6135R, 6145R, 6155R, 6175R, 6195R, 6215R, 6230R
7210R, 7230R, 7250R, 7270R, 7290R, 7310R
8245R, 8270R, 8295R, 8320R, 8345R, 8370R, 8320RT, 8400R
9370R, 9370RT, 9420R, 6420RT, 9470R, 9470RT, 9520R, 9520RT
W235, W330 PTC, W440, W440, W650, W660
S650, S660, S670, S680, S690, S770, S780,
T550, T560, T660, T670,
R4030, R4038, R4045
544K, 550K, 700K
1270G, 1470G
648L, 748L, 848L
CP690
8100, 8200, 8300, 8400, 8500, 8600,
R4023, R4030, R4040i

You are interested and want to learn more about John Deere DEF Delete?

You are interested in distributing our products ? Write us a request here.
These modifications may not be used in all countries. A clarification is incumbent on the customer if he may use this modification in his country.