Chiptuning Plus - The right amount for your car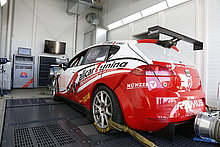 What exactly is Chiptuning Plus and what is the difference to "regular" chiptuning? First of all, Chiptuning Plus is more time-consuming. The whole procedure takes 1–2 days. In the beginning, an exact profile of the car engine is set up. Your engine control unit is then optimised step by step, based on the evaluation of the named profile. During each step, we perform a test run on our power test stand. We analyse the results of each individual performance test very thoroughly, which does take more time but leads to a better final result.


Chiptuning Plus includes

- software tuning that is adjusted exactly to your vehicle
- better results
- even better performance and less fuel consumption
- additional performance reports and analyses – an extended analysis of all engine parameters (lambda, boost pressure, intake air temperature, etc.)
- rental car included


The extra charge compared to the regular chiptuning price is only € 300,-.