Professional Chiptuning
Chiptuning and eco-tuning are our core business. For more than 10 years, customers in the field of engine tuning have trusted us. At our power test stands at our new headquarters in Kalsdorf near Graz , we are constantly working on the development of our engine tuning software. We can thus guarantee highest durability and improved performance.
Our products are TÜV-certified and available all over Austria!
Thanks to our reliable certified retailers and partners, we are able to provide our chiptuning throughout Austria. Quickly check the chiptuning configurator, and you'll immediately know how much better your car could perform. If you choose chiptuning by allcartuning you do not need to come to Kalsdorf near Graz, but can just easily and comfortably visit one of our certified retailers in your vicinity.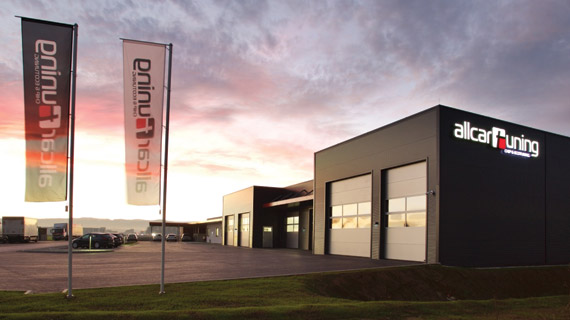 Location
Since November 2014 you can find our new headquarters directly at the A9 motorway exit in Kalsdorf.
This is where the complete CHIPTUNING software is being developed and tested.
On an area of 600 square metres equipped with three power test stands, we produce software for more than 350 businesses all over the world.
We are constantly working on the development of our tuning software in order to guarantee the highest quality and durability for our customers.
Trusted by our customers – and rightly so!
Allcartuning

Wir sind eine Tuningfirma aus Kalsdorf bei Graz die sich nur mit Software Modifikationen für PKW´s, LKW´s und ...
NEWS
Why Allcartuning is the best choice in Chiptuning.

Engine Warranty
Warranty insurance for new and used vehicles.
more

Facebook
Stay up to date and follow us on Facebook.
more